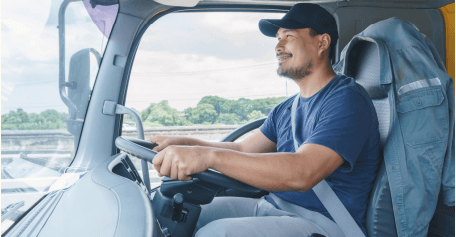 If you have company trucks to provide service offsite or to deliver products, your drivers spend a lot of time on the road.
Here are some tips for improving company driver safety and reducing costs:
1. Make sure your drivers have safety gear onboard
Stock your trucks with warning triangles, first aid kits, LED flares, warning flags, and make sure employees have access to safety vests, helmets, gloves, and other apparel as needed.
2. Keep your trucks well maintained
Maintain a consistent inspection routine for all your vehicles. Not only will they be more dependable, but you will also save money by avoiding big repair bills. Inspect critical components such as steering, brakes, tires, wheels, couplers, and suspension.
3. Make sure your drivers follow basic good driving rules for trucks
Slow down, especially with big trucks that don't corner like a Ferrari and take corners and ramps very slowly.
Avoid traffic — avoid peak traffic times, if possible.
Leave a lot of room in front.
Keep lane changes to a minimum — especially with big trucks.
Be extra cautious at night.
Use a GPS.
Check the weather. Sometimes it's best to reschedule. Always be prepared for the weather at hand and take proper precautions.
4. Hire a safety manager
Having a safety manager means you and other members of your management team can focus on other matters. Having a highly trained person who is dedicated to improve company driver safety will most likely accomplish your safety goals much more effectively. Safety manager duties include driver instruction, monitoring safety records, and ensuring compliance with DOT, OSHA, and HazMat laws.
5. Identify and address your biggest violations first
If you've been ignoring or setting aside safety issues for a while, triage them. Focus on the bigger issues first. Whether it's bad brake connections, damaged or discolored windshields, broken turn signals, or uncertified fire extinguishers, identify the biggest troublemakers and focus on those first.
6. Hire good drivers
You need to check on a person's motor vehicle records (MVR) of course. This will show any tickets they've received or accidents they have been involved in. But because you're hiring someone who is going to be driving on behalf of the company a significant portion of the time, you also want them to be safety conscious. Needless to say, avoid hiring someone with multiple moving violations, especially for speeding or failing to obey signals. Studies have shown that these habitually careless drivers are more likely to become involved in accidents. Moreover, try to hire drivers with a real commitment to safety. The Department of Transportation has a Pre-Employment Screening Program you may want to check out. Companies using the PSP have lowered their crash rate by 8 percent when screening new hires and 17 percent for drivers-out-of-service (drivers taken out of service because of a DOT Roadside Inspection).
7. Make safety training a regular event
Whether it's with meetings, surveys, videos, pamphlets — the end goal should be of zero accidents. Take the opportunity to discuss the importance of driver safety in multiple formats.
Don't forget to make sure you are covered with any Auto or Trucking Insurance you need for your business to aid to improve company driver safety. Have questions on your insurance or need a quote, contact us today!